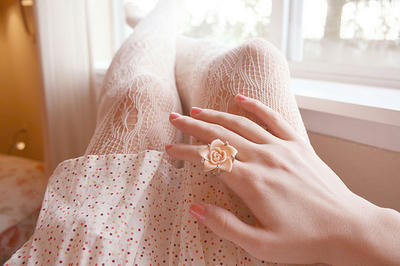 This is a Mozart (cake) - I have to add the cake in there because it seems too snobby to call it by a title. The original recipe is here; my adaptation is below. Regarding the flavor: the component parts were good, but nothing requiring the choir of angels that sang when other reviewers tried it. There are two major changes I would make if I try the recipe again:
1) Roll out the dough to wafer thin before baking
elyze
- you roll it out on parchment paper so you don't need to worry about ripping it in the transfer.
2) When assembling the pieces, brush two of the pastry rounds with apple jelly before covering them with mousse. The apple flavor in this cake is very subtle; adding a little more does not hurt.
By the way -- did I mention the need for fire in this recipe? Fire is fun, but very very scary. A few notes about fire and alcohol:
1) Fire hurts. Skin and fire don't play well together
elyze
.
2) Alcohol catches fire most easily when heated -- I found this out after several attempts at lighting room temperature alcohol.
3) When actually lighting the alcohol, keep your hands and face as far away as possible. Best method I found was to light a match, tilt the pan with the heated alcohol away from yourself, and quickly, lightly brush the match head against the top of the liquid. It may appear to have failed to light for a moment; don't put your face close to check. If you don't see a blue flame, strike another match and try it again. The only truly difficult part of this step is using matches; if you have a butane lighter (long and thin) there's much less of a concern about getting close
elyze
.